There are many affiliate programs out there that can help you to make a living online, today we are going to review the Wayfair affiliate program, we are going to look at what you should expect from them, how to sign up with them, and how to make money promoting them.
What is Wayfair?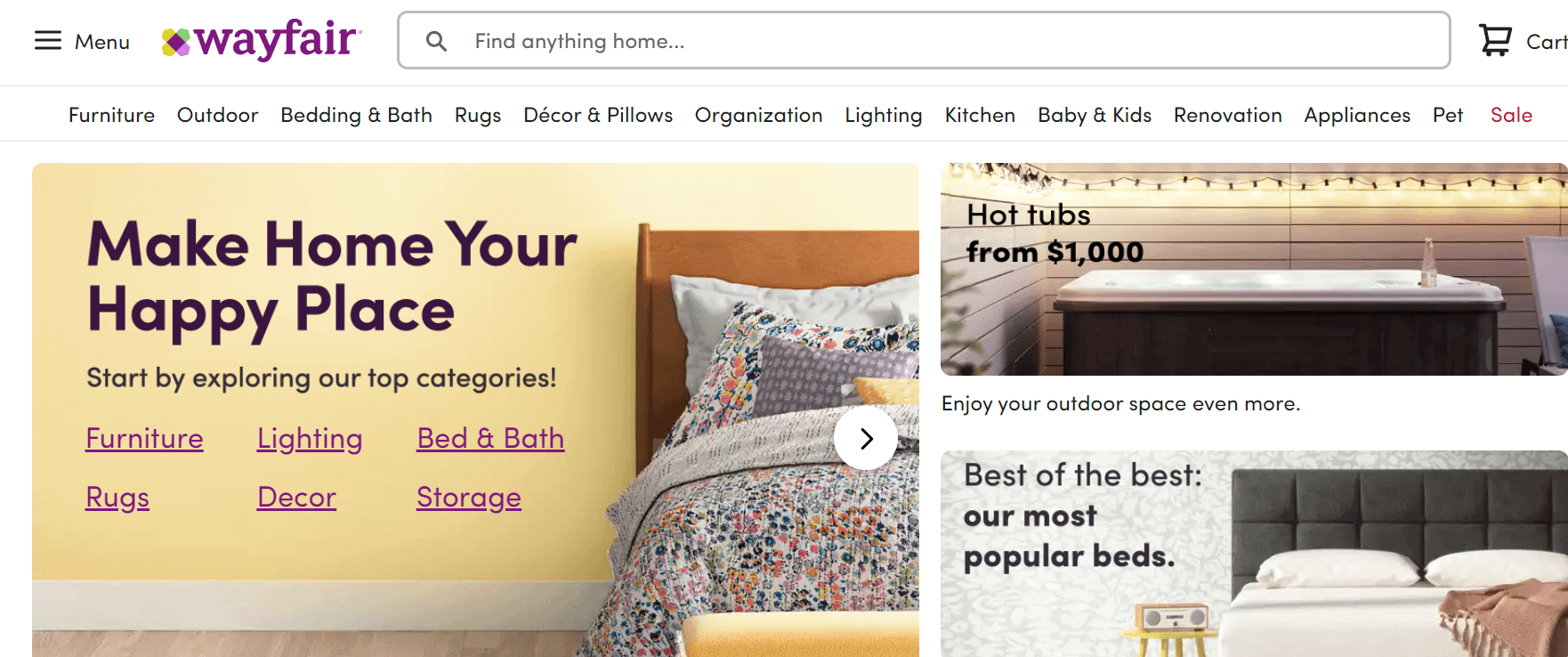 Wayfair is one of the largest home goods, online retailers. they claim to have more than 2 million products in their database, which is huge.
If your niche involves kitchen, furniture, lighting, garden, pets, or other items related to your home or outdoor spaces you can find to promote from them.
Their affiliate program is run by CJ so there are great marketing support materials and you don't need to worry about timely payments.
But can you make money as a Wayfair affiliate? Let's take a look.
How do I become a Wayfair affiliate?
Wayfair's warehouses are located in the US, Canada, UK, Ireland, and Germany. They do not offer international shipping, so if you are interested in becoming an affiliate, your audience needs to be located in those countries.
Previously handled by ShareASale, the Wayfair affiliate program is now hosted by CJ Affiliate. To be part of the affiliate program, you have to sign up with CJ as a publisher where, aside from Wayfair, you can also promote its sister companies such as Joss and Maine Affiliate Program, Birch Lane, and All Modern.
For US citizens, nexus tax laws prevent partners from several states from joining the affiliate program. These states are:
Alaska

Arkansas, Delaware

Hawaii

Idaho

Indiana

Iowa

Kansas

Louisiana

Minnesota

Missouri

Mississippi

Montana

North Dakota

Nebraska

New Hampshire

Oklahoma

Oregon

New Mexico

Nevada

Tennessee

South Carolina

South Dakota

Vermont

West Virginia

Wyoming
Wayfair Affiliate Program Application
If you want to apply to this affiliate program you will have to meet some requirements, Wayfair affiliate program is one of the most strict programs out there so before applying to it make sure you have a fully functioning website that meets the following criteria.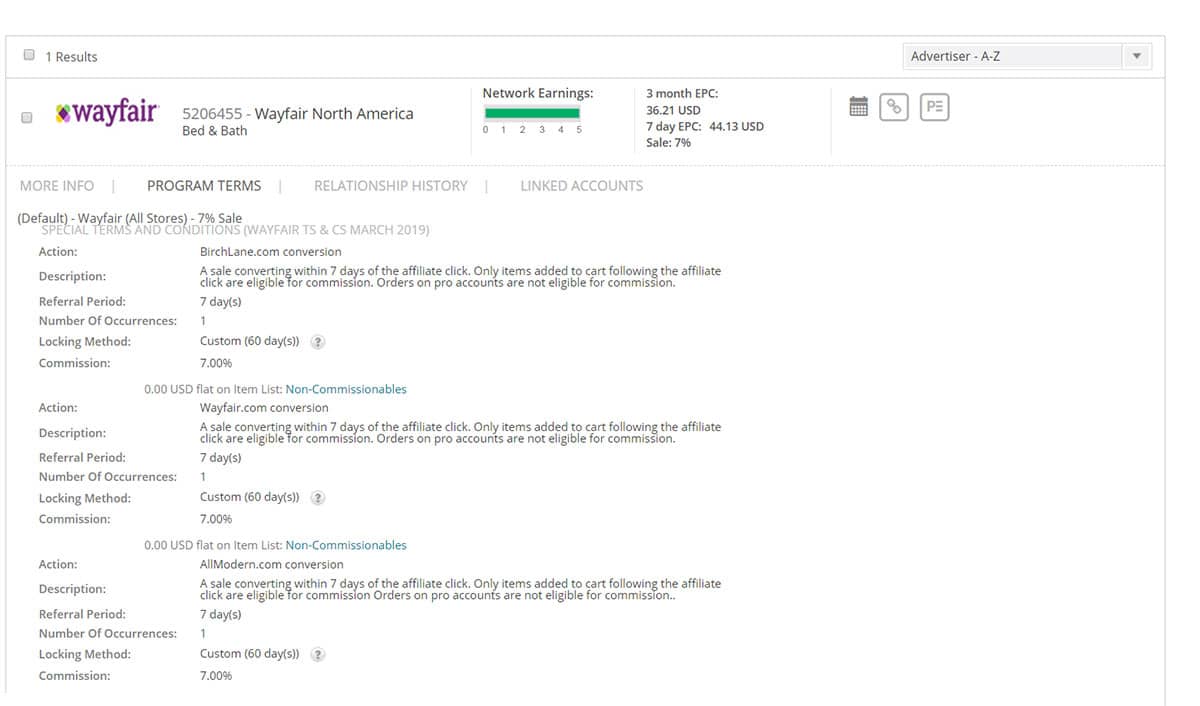 Do
1) Have a URL and website
You need to have a fully working URL and a blog, if you do not have this they will reject your application if you do not have a blog you can start one here.
2) Have a good amount of traffic and content
Having a blog is not good enough you need to have high-quality content in it and you need to have some traffic going to your blog.
3) Focus on Wayfair-relevant content
Your blog needs to have content that is relevant to Wayfair, since this company is about decor, you need to be producing content around this niche. This can be general information, reviews, or buying guides.
4) List all sites you will promote from
If you have other sites that you are going to use to promote their affiliate programs you will need to let them know.
If you're going to use social media, my recommendation is to send people from social media to your blog and redirect them to wayfair.com
5) Provide a detailed description of your audience and marketing plans
You will have to provide a detailed description of your audience and your marketing plan, do not leave anything by chance.
Don't
These are sites you should never submit while applying for their affiliate program.
1) No comparison price sites
If you have a site that compares items, do not submit it, they will reject your application without thinking.
2) No coupon, cashback, voucher, or another reward for purchase sites
This is called incentive marketing they do not allow it, and do not submit sites that provide incentives to the customers.
3) No controversial sites (Politics, religion, sex, drugs, etc.)
If you write about controversial topics like politics, religion, or vaccines, do not apply to this program, they will not accept your site.
How to make money with the Wayfair affiliate program
For me there are two main ways to make money with the Wayfair affiliate program, one is content marketing and the other is social media. I am going to expand on this below.
Content Marketing
This is the strategy when you produce content that is related to home decor or furniture, you can do this by producing written content and publishing them into your own blog or you can just them on sites like the medium.
Also, you can start a youtube channel and produce content around this niche, and you will recommend your audience products from wayfair.com
If you want to learn more about how to use and make money on programs like Wayfair, please watch the free Webinar below.
Social Media
Another way to promote the Wayfair affiliate program is using social media if you have a huge following on social media sites like Facebook, Twitter, or Instagram, you can leverage that and drive massive traffic to your Wayfair affiliate link and make a living from it.
Pros and Cons — Wayfair Affiliate Program
In this section, I am going to share with you the pro and cons of this affiliate program.
Pros
 Dedicated in-house affiliate management
You will get a dedicated affiliate manager, who will be able to assist you in the whole process and provide you with the materials that will help you to make money.
 Strong Partner in CJ Affiliate
CJ affiliate network is one of the most reputable affiliate networks out there, they will track your links and commissions and they will pay you commissions in time every time.
 Over ten million products
You will have a lot of options to promote, if one of the products does not sell that well to your audience, you can always choose another product from their website.
 Datafeed of 1 million products
Another important thing is that you will have access to more than 1 million Datafeed, this will help you to create content from the analytical data point of view and this will increase your income.
 Average order sizes of $300
The average order size at wayfair.com is $300 if you're going to get a 7% commission that is at least $21 per sale, if you make 5 sales per day, you can make more than $3000 per month.
Another benefit of being accepted to the Wayfair affiliate program is that you are automatically enrolled in the programs of their sister sites.
Wayfair.ca

Joss & Main

AllModern

Birch Lane
Cons
 Can be difficult to get approved
For me the main disadvantage of joining the Wayfair affiliate program is that it can be very difficult to get approved, this is a stumbling block to many new affiliates.
My advice with this is that start a blog, work on it, and create content, after three months when you start to get some traffic, go on and apply to this program, if they do not accept you, keep improving your site and try again.
FAQ
How much does Wayfair pay its affiliates?
Wayfair affiliates are paid 7% of the total purchase amount made by their referrals.
How long do you have to make a sale from someone who uses your affiliate link?
Wayfair has a 7-day cookie. Any purchases made in that time period will be credited to you. As long as the customer purchases within 7 days of arriving with your affiliate link you will receive the commission.
What products are eligible for affiliate sales?
All products purchased by your referred customer at Wayfair.com are eligible for commissions.
Does Wayfair run its own affiliate program?
Wayfair's affiliate program is managed by Commission Junction (CJ). CJ provides affiliate support and marketing materials.
Should You Become a Wayfair Affiliate?
In my opinion, Wayfair is a good affiliate program. They run their affiliate program with a very reputable CJ. They have a flat 7% commission across all products. They also have a 7-day cookie window vs. Amazon's 1 day.
If you are in the home or decor niche I would go for it.
How to get approved to sell on Wayfair?
Wayfair is among the stricter affiliate programs, but it is worth it. To become eligible for the program, you need to satisfy the following requirements:
A website URL
Quality content and decent traffic
The website is focused on Wayfair-relevant content (i.e. home décor, furniture, and furnishing)
Include all sites you will use to promote Wayfair products
A detailed description of your site, audience, and marketing plans
How to Make Money with Wayfair without Risking Getting Banned?
Given those limitations, here are some recommended strategies to make money from Wayfair's Affiliate Program:
Create a niche website and/or social media accounts on home furnishings and décor to promote Wayfair products.
Final words
That is it, in my opinion, the Wayfair affiliate program is worth the trouble, I know it is difficult to get approved but if you are willing to follow their requirement and put in the work, you can make this work.
Personally, I am not  in the home or decor niche, but I have  built many niche sites, if you want my help you build your niche site go to https://sekihudson.com/start-a-blog