As an affiliate, you can use blogging, email marketing, social media, product review pages, and many other ways to promote products and services online.
In this post, I will show you how to promote Clickbank products without a website or blog step by step as an affiliate to make money online.
First, What Is An Affiliate?
An affiliate is someone who uses an "affiliate link" to send website traffic to a vendor's site that sells a product.
If a sale is made upon that visit, or within a set time of that initial visit, the affiliate receives a commission (a pre-determined portion of the sale price).
In the Clickbank, you'll receive an affiliate commission if the prospect buys within 60 days of the initial visit.
This is referred to as 60-day cookies (cookies are the internet term for keeping track of website visit history).
Why Clickbank?
The reason I recommend Clickbank is that they approve almost everyone to promote their products and they will pay you every Wednesday.
If your country is not on the list of Clickbank-approved countries, you can check out alternatives to Clickbank here.
But the information from this page can be applied to promote any affiliate product from any company, just remove the word Clickbank and put your affiliate network name and you will be set.
Without any further due, here is how you can promote Clickbank products step by step without a website.
How To Promote Clickbank Products Without a Website Step By Step
Step 1: Create a Clickbank account
The first step is to create a Clickbank account, if you have one you can skip this step.
To create a Clickbank account go to:
https://accounts.clickbank.com/signup/
You will find a page like this one below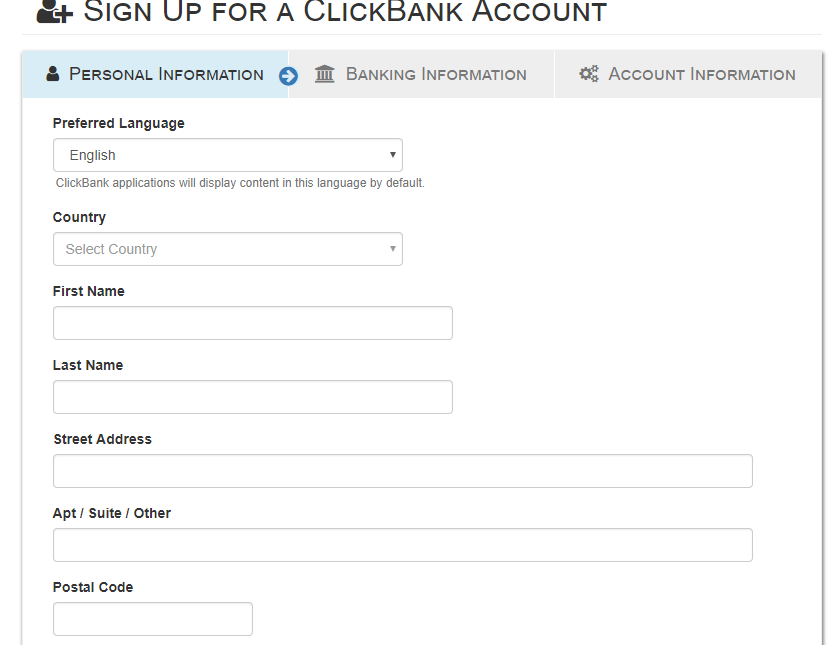 Just fill in all the required information, you need to put your real information, including your real name, your real address, and your real email (I know it sounds obvious but I know people who put fake information), this will save you from troubles when Clickbank pay you in the future.
Then click next, and fill up your correct bank information, after finalizing everything you will have to confirm your email and you are set to go to the next step.
Step 2: Pick a product to promote
After finalizing the creation of your Clickbank account you will need to pick a good product to promote.
All you need to do is to login into your Clickbank account and then click Marketplace, which will take you directly to the Clickbank marketplace.
In the marketplace you will find a search bar, if you have an idea of what niche you want to promote just type it in the space ( for example I was going to promote affiliate marketing products so I typed 'Affiliate marketing' If you don't know yet what niche to promote just leave it in blank and then click the search icon as shown in the image below.

When the search results appear, click in the drop menu and choose Sort by gravity: High-Low.
For those who don't know, Clickbank gravity is an estimated matrix that indicates the number of an affiliate who has made a sale promoting a product in the last 12 weeks, for each affiliate who made a sale the product is given a number between 0.1 and 1 depending on when the sale was made.
All you need to do after that is look for a product that you do want to promote, for me these are the things I look for from the product.
Gravity
Most people will tell you that you need to promote products with the highest gravity, Personally, I think this is a myth because higher gravity does not necessarily mean it is a good product and because everyone and his dog preach about promoting high gravity products most affiliates especially new ones tend to promote these products and create unnecessary competition also Clickbank gravity can be manipulated.
I will say choose a product between the gravity of 10 to 50 if this is your first Clickbank promotion stick with between 20-30 if there is no product in that range you can go a little bit low or high depending on the niche.
Initial Sale
This is the amount of money you will make when people buy a certain product by using your affiliate link, I tend to choose products with initial sales equal to or above 20. This means if I make at least one sale per day I will be making at least $20 per day, which is not a bad thing.
Avg $/sale
This is the amount of money you will make on average for every sale you generate if the Initial sale amount=Avg $/sale this means that the product does not offer any Upsales or people just don't buy them.
Avg Rebill Total
If this number is $0.00 means the products do not have recurring payments so you will not make any money after the initial sale, if it is bigger than 0 means it has a recurring income.
Avg %rebill
This number represents the average affiliate commission percentage for a sale, including only the rebill commission.
For me, the most important factors are gravity and initial sale, for that reason that is why I selected the second product in this list (see the image below).
But that is not all, now you have selected the product you need to check out their sales page or sales video, you need to make sure that it is a nice and clean sales page/video, with no link to other websites, and no gimmicks or false claim and you need to ask yourself this question, I would buy this product for myself? if the answer is yes and you have money then buy it, if you don't have money but the answer is yes you can also promote it, but if the answer is no, don't promote it and chose another product.
It is always good practice to buy and use the product yourself before promoting it.
Step 3: Get your affiliate link
So now you did all the work and you found your product, you need to get your affiliate link, this is easy, just click the promote button (the one below Avg $/sale and this popup will appear in a new window.
Enter your information part you should have your Clickbank nickname there, if you clicked from inside your Clickbank account it should be there by default if it is not there just type it, and make sure it is correct so that you can be credited for the sales you will be generating.
Also, I will encourage you to enter your tracking ID, this is optional but it is useful because it will tell you where the sale came from and it will help you to decide which traffic-generating method to focus on.
Since this is a test, I put my tracking ID as a test, I do this to know where the sales are coming from.
Ather that click generate HopLink and Clickbank will generate one of the ugliest URLs you will ever see, just click on the icon on the right-hand side of your link to copy and paste it somewhere you can remember like in Notepad, and save it in your computer.
Step 4: Build a Landing Page
Creating a landing page is crucial for building an email list. It is where you will direct traffic from your affiliate marketing campaigns.
A landing page is a standalone web page designed to convert visitors into leads or customers. Here are some tips to help you create an effective landing page for your affiliate marketing campaign.
Choose the Right Landing Page Builder
Choosing the right landing page builder is essential for creating a landing page that converts. There are many landing page builders available, and some are better than others. When choosing a landing page builder, consider the following:
Ease of use

Customization options

Integration with your email marketing platform

Pricing
Some popular landing page builders include Leadpages, Unbounce, and ClickFunnels. 
I use Thrive themes to create my landing pages, if you are new I would recommend starting with systeme.io, I created this page using this amazing free landing page builder.
Create an Effective Landing Page
Once you have chosen a landing page builder, it's time to create your landing page. Here are some tips to help you create an effective landing page:
Keep it simple: Your landing page should be simple and easy to navigate. Avoid clutter and distractions that may take away from your call to action.
Use clear and concise language: Your landing page should clearly communicate the benefits of your offer and why visitors should sign up for your email list.
Include a strong call-to-action: Your call-to-action should be prominent and clearly communicate what visitors need to do to sign up for your email list.
Use high-quality images: Including high-quality images can help grab visitors' attention and make your landing page more visually appealing.
Optimize for mobile: With more and more people accessing the internet on their mobile devices, it's essential to make sure your landing page is optimized for mobile.
By following these tips, you can create an effective landing page that converts visitors into leads and helps you build your email list.
Download my landing page here.
Step 5: Drive Traffic to Your Landing Page
Now that you have set up your landing page, it's time to drive traffic to it. Here is how to do it using Twitter.
How to drive traffic to your landing page using Twitter
Create and Optimize your Twitter account
Now you have the product and the link you need to create a Twitter account that you can use for your affiliate promotions if you have one you can use that one if you do not just create a new one, it is easy and very quick.
Just go to Twitter.com
Twitter will ask you to log in or create a new account, depending on your situation you can log in or create a new account, to create a new account they may ask you for a phone number, email address, and your name.
For the Twitter username, I will recommend finding a name that is short and easier to remember, you can just use your name or pen name if you wish, if the username is taken, try to find a new one and avoid using numbers at the end (it creates mistrust), you need to create a profile that people can trust.
Connect with me on my personal Twitter account here. https://twitter.com/sekihudson
Optime your profile
Use your real photo
I found it easier to attract new followers when I use my real photo, I will recommend you do the same. never leave the default profile photo.
Create a cover image
I use a free tool called canva.com to create my Twitter cover images, it is free, easy, and quick, again do not leave the default cover image.
Write a short bio and put your link on it
Here is where things start to get interesting, you will need to create a short bio to introduce new people to your account, and then at the end of it you can include your affiliate link.
You need to do this as most people do before deciding to follow you, they can go on your profile, and writing a good bio with a link on it will increase the chance of them following you and clicking the link.
here is my optimized Twitter profile.
Write your first tweet and pin it.
Before starting to follow anyone or having any followers I will recommend that you write your first tweet and pin it.
Write a short email with a call to action, include your affiliate link, and then tweet it. After tweeting it, click a drop menu on your tweet and then click on the pin to your profile as shown in the image below. That is it.
Start following other Twitter accounts
After optimizing your Twitter profile, now it is time to start following other Twitter accounts that might be interested in what you are promoting.
But before going into details on how to do this please follow my account @personalithrive
Where to find people who might need your products?
You need to find out what are big accounts in your niche are. In this example, I am promoting Easiest System Ever (ESE), and this account is dedicated to all people who want to make money online via affiliate marketing.
So the first question I will ask myself is what are the influencers in affiliate marketing? Most people must be following them.
Big affiliate marketers, like Russel Brunson, and big tools like Aweber, and Clickfunnels are the influencers and most of your audience must be following them.
The idea here is to steal followers from them, this is what I mean, go to the big affiliate marketing account, click on followers, and start following those people.
For example, if I was targeting Clickfunnel's followers, I would go to his account and I will see who is following them and I will start following those people.
The idea here is that if these people are interested in Clickfunnel's tweets they are interested in marketing and becoming online entrepreneurs, and some of them might be interested in my content.
If your account is brand new, I will recommend starting following 50 people per day in the first week then increasing the number to 100, then 150 up to 400, Twitter allows you to follow up to 400 accounts per day.
Some of these people will start following you back and if you do this in less than a month you can have more than 1000 followers.
Unfollow users who do not follow you back
Twitter wants you to have a good ratio of people you are following and people who follow you, by using this method most people won't follow you back, what you want to do is to start unfollowing people who are not following you back.
Start giving value
The secrets to free traffic are to add value to the community and start posting tips and information that your audience might be interested in.
I found out that motivational quotes work almost for every niche on Twitter, find them, and post them 5 to 10 times a day, the more the better.
Interact with other users
When you start getting followers, you need to start to retweet or like their content, and in exchange, they will do the same to you, this will give your account exposure and your account will start growing organically ( without you following other people).
Ask questions and respond to the question they ask, some of them will ask you what you do and you will explain to them that you're an affiliate marketer, and if they are interested you can tell them how to get started if they say yes, you send them your affiliate link.
You can tweak it a bit if you're in a different niche.
Tips For Promoting your landing page on Twitter
Twitter is a powerful platform to promote affiliate products and drive traffic to your landing pages. let's see effective strategies for promoting affiliate products on Twitter.
Crafting Engaging Tweets
Crafting engaging tweets is key to promoting affiliate products on Twitter. Here are some tips to make your tweets stand out:
Keep your tweets short and to the point

Use attention-grabbing headlines

Include visuals such as images or videos

Add a call-to-action to encourage clicks
Using Hashtags Effectively
Hashtags are a great way to increase the visibility of your tweets and reach a larger audience. Here are some tips for using hashtags effectively:
Use relevant and popular hashtags

Avoid using too many hashtags in a single tweet

Create your own branded hashtag for your affiliate products
Engaging with Your Audience
Engaging with your audience is crucial to building relationships and promoting affiliate products on Twitter. Here are some ways to engage with your audience:
Respond to tweets and messages promptly

Retweet and share content from your followers

Run contests and promotions to encourage engagement

Ask for feedback and suggestions from your followers
Measuring Your Success on Twitter
As an affiliate marketer, it's important to track your progress and measure your success.
This will help you determine what's working and what's not, and make adjustments accordingly.
There are two key ways to measure your success: tracking your links and analyzing your results.
Tracking Your Links
One of the easiest ways to track your affiliate links is by using a link shortener. There are many link shorteners available online, but some popular options include Bitly, Ow.ly, and TinyURL.
These tools allow you to create a shortened link that redirects to your affiliate link. By using a shortener, you can track how many clicks your link receives, where those clicks are coming from, and other valuable metrics.
Another way to traffic your affiliate link is by using PrettyLink. If you have a WordPress blog you can install a plugin called Pretty Link, This is a free plugin that can shorten your affiliate links and track the clicks inside your WordPress blog.
Analyzing Your Results
Once you've tracked your affiliate links, it's time to analyze your results. This will help you understand how your promotions are performing and identify areas for improvement. Some key metrics to look at include:
Click-through rate (CTR): The percentage of people who clicked on your link compared to the total number of people who saw it.

Conversion rate: The percentage of people who clicked on your link and completed the desired action (e.g. making a purchase).

Revenue: The total amount of money you earned from your affiliate promotions.
You can use these metrics to compare different promotions, test different strategies, and optimize your campaigns for maximum success. By regularly analyzing your results, you can stay on top of your game and continue to grow your affiliate business.
Question and Answers
Do this method works?
Yes, it works, I still use it to make sales and drive traffic to my landing pages and I know many people who use Twitter to make money online, you can do it too.
How much money I can make from this method?
There is no guarantee of how much money you can make, but in my case, I get many leads that opt-in on my landing pages.
If you can get 10 people to join your mailing list per day and one of those people to buy, that is at least $20 per day, assuming that the product you pick pays you $20 per sale on average.
Is this long-term?
Yes, it is a long-term strategy, remember we are building our own email list. You can use this method to make at least $100 per day, even if Twitter burns your account, you can still make money by promoting affiliate products to your list, another thing I will recommend is to create a blog or a Youtube channel.
Final word 
This is how you can promote Clickbank products without a website or blog, there are many methods you can use, and I will keep posting them here.
If you like this content make sure that you subscribe to my email list to get an update on a new post and learn how to create a passive income online.