They say that the money is on the list and if you want to build a list you will need an autoresponder and Aweber is one of the best. And in this post, I am going to give you 7 reasons why Aweber is the best autoresponder for beginners.
Aweber was a leading autoresponder service for many years but at some point in the last 3 to 4 years they become stagnant and many companies left them behind, Active Campaign, Getresponse, and Convertkit to name a few surpassed Aweber in many features but it is still a great service.
After saying all that it is important to know that even though I use Active Campaign as my main autoresponder, I am still a fan of Aweber, I still have an active account with them and it is what I recommend to those getting started.
They are a little behind in terms of adding features, but they're getting there and trying to keep up without raising prices, which I appreciate. It is reasonably easy to use and it's definitely the more affordable option.
Why AWeber is the Best Autoresponder for Beginners
So, here are the top 7 reasons you should choose to use AWeber for its autoresponders especially if you are a beginner.
1: It is easy to use
I have used a share of the autoresponder, and most of them will require a huge learning curve to get to understand using them.
For me, if you're just getting started in list building you do not need most of the fancy features, you just need an autoresponder that can do the job, ie send emails to your prospects and customers.
2: It is cheaper
How much does Aweber cost?
They have a free account that will cost you zero dollars for up to 500 subscribers, but it is very limited and you can just create one list and send a limited number of emails.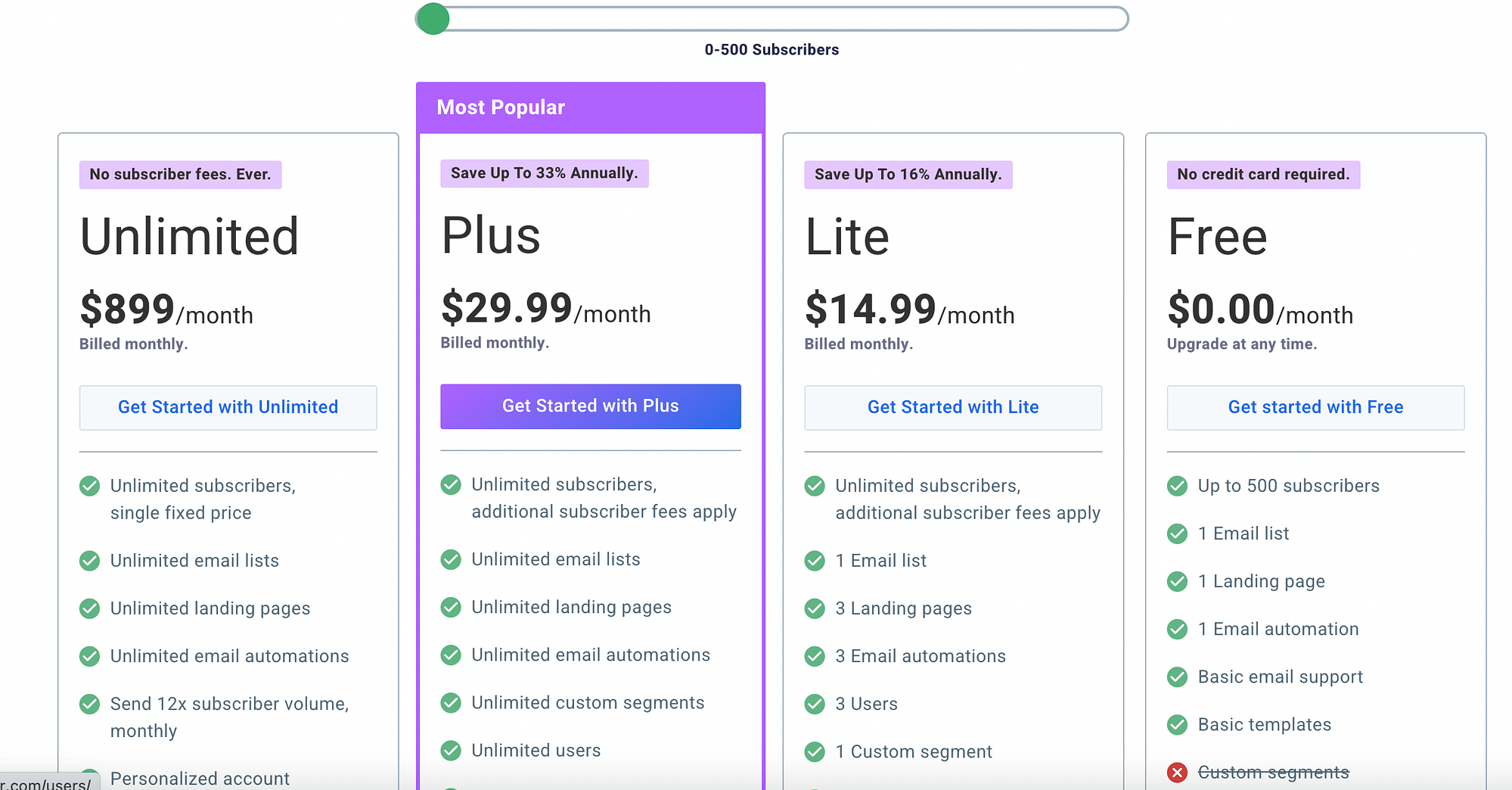 So, let us compare the first price point (most beginners will start there), with from closest rivals, Covertkit and Getresponse.
Aweber vs Convertkit
Convertkit has a free plan for up to 300 subscribers, but it is a very limited plan, you can have the pro plan for the same range of subscribers and they will charge you $15, between 300 to 1000 they will charge you $29.
From 0 to 1000 subscribers you pay $29 with that money, you can get up to 2500 subscribers in Aweber(in the Plus account).
Also, you have to take into account the fact that you need to get approved to send emails with Convertkit ( it takes an annoyingly long time) while with Aweber you can sign up and set up everything and start sending emails to your list without approval.
Personally, I think Convertkit is the best autoresponder for content creators while Aweber is the best autoresponder for affiliate marketers.
Aweber Vs Getresponse
Getresponse also has a free account but it is very basic, unless you can not afford $15, I would not recommend it.
Actually, Getresponse is cheaper than Aweber, you pay $15 per month for up to 1000 subscribers, but there is a catch with that, you just get basic features, and you do not get the automation if you want automation and other cool features they rave about you need to pay $45 per month for just 1000 subscribers.
With Aweber, you get everything when you pay $14.99 and they keep improving their product.
3 You can import your list
A few years ago, Aweber used to be very strict on importing a list from other sources, if you wanted to import a list you had to send in a confirmation email to your list.
Now it is optional, actually, you can import a list into your Aweber account without sending a confirmation email.
This is a very useful feature for beginners, when I started I moved from one autoresponder to another a lot, not having this feature can help you to move your subscribers without running the risk that they won't confirm again.
4 You can turn off double opt-in
For those who do not know, double opt-in is when a person joins your list and needs to confirm that so that they can start receiving your emails.
A single option is when the prospect does not need to confirm.
The problem with double opt-in is that most people will forget to confirm their email and if you're new and on a tight budget, you will be losing a lot of potential customers.
Aweber allows you to turn off double opt-in and select a single option, this is great for the growth of your email list.
Note: This feature is now only for paid accounts, any paid account has this feature.
5) Extremely Professional landing page & templates
You can honestly create a very professional landing page and start ailing list form with AWeber.
You just follow these simple steps:
Choose any template or design

Choose the colors, fonts, and words that leave an impact on your potential subscribers.

Select a redirection to a thank you page or send them back to the current page.

Simply copy the codes and place them on your webpage.
It is not as good as Clickfunnels but it can do a decent job and save some money, especially when you're under budget, again this is included in all plans, you do not need to pay extra for it.
6) Easy Integration With a Ton of Plugins Including WordPress
Another way that Aweber makes life simpler, is through the power of integration. When you complete the custom design, you can choose to:
Personally install the codes

Ask AWeber to host the form for you

Send it to your web designer to do it for you
Aweber has integration with almost every tool that you need to build your business, with a few clicks you can integrate Aweber with landing page builders like Clickfunnels and WordPress.
With these integrations, I am able to build my followers pretty much instantly. I have honestly tried many other email marketing solutions before finally using AWeber.
7) RSS to Email
For bloggers, this is truly a useful feature. That is because it will save you a lot of time.
So, if you want to keep your blog followers up to date on your new posts, then it could be very time-consuming to come up with a new newsletter to send to them.
This is why AWeber's RSS to email feature is so vital. This technology automatically sends your latest blogs straight to your subscriber's inbox.
It literally automates email notifications at any time that you choose. It's a pretty irreplaceable feature in itself.
How to Get AWeber
So, I'm hoping that you are ready to get on board with AWeber. It will be the best investment you can make into the future of your business.
There are some pretty impressive advantages to this email marketing software. I know this because I use it to grow my online business.
You can get Aweber for free by clicking this link or the banner below.
Conclusion
AWeber is one of the best autoresponders in the market, it has a lot of good features, especially for beginners.
It's the best product of its kind available, it is reasonably priced, easy to use, and contains most of the key features you'd expect from an email marketing solution.
Additionally, it's not too expensive in comparison to some competing products, especially Active Campaign and Convertkit.